Trash & Recycling
The City of Almena provides solid waste collection and recycling services. Everyone within the city limits is required to have garbage collection and recycling collection is picked up for all residents as well.
Most trash and debris, when properly bundled and/or contained properly, can be disposed of at curbside with your regular garbage service days. Regular Trash Day is every Tuesday. All trash and recycling must be set out curbside by 8:00am in order to be picked up that day. Trash must be bagged and/or in a trash container with handles.
Polycarts are available for purchase through the city for $87/ea. Call 785-669-2425 for more information.
Dumpers are available for rental through the city and cost $25 per dump. Call 785-669-2425 to rent a dumpster.
Frequently Asked Questions
When is trash/recycling pick up?
Regular trash and recycles pick up day is Tuesday. Have items to the cubside by 8am.


Does Almena have a City-Wide Clean Up?
Almena participates in the county-wide clean up, which generally occurs each spring in April. Check our Calendar of Events for details as we receive them.
Do lawn clippings, leaves, and yard waste get picked up?
Yard debris does not get picked up with regular trash. There is a compost pile available for residents to take their yard waste (branches, sticks, leaves, grass, etc). Call 785-669-2425 for more information or directions to the compost pile.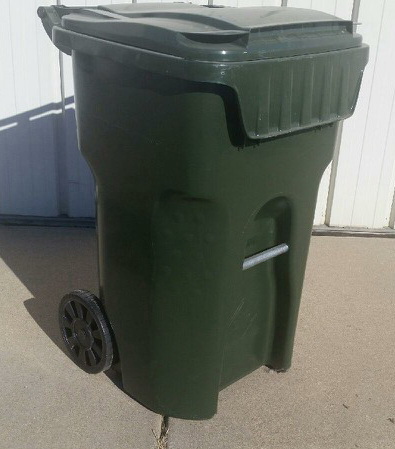 Relevant Documents